Tea of the Month is Lets Chai, its aromatic spice blend is perfect for cooler weather.
The spices used for Chai date back to Ayurvedic medicine (5000 years) – the spice blend was then added to tea as the tea industry was established by the British.
Dark, sweet perfection describes this aromatic spice blend that, after one sip you can imagine exotic cafes where friends gather to share laughter and conversation over a cup of invigorating chai.
INGREDIENTS:
black tea, ginger, cinnamon, cardamon, black and white pepper, clove, nutmeg, star anise, coriander. CAFFEINE: Medium
Recipe for a Coffee Bar Chai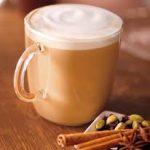 Ingredients 2 cups of Water
1 1/2 tps Let's Chai
1/4 cup Honey
1/2 tsp vanilla extract
1 cinnamon stick
5 whole cloves
1/4 tsp ground ginger
1 pinch ground nutmeg
2 cups milk
Instructions
In saucepan, bring water to a boil. Add tea, honey, and vanilla. Stir gently for 2 minutes.
Reduce heat to low. Season with cinnamon, cloves, ginger and nutmeg. Simmer for 5 minutes.
Pour in Milk, and bring to boil. Remove from heat, and strain through a fine sieve.
Save
Save