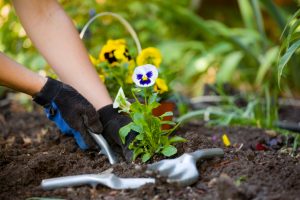 We are a full service garden center, serving the community for over 30 years. We locally source plants and supply organic options. We have friendly experts on hand to inspire and teach, no matter what your experience level. We want to help beautify your surroundings, with our diverse selection of trees, shrubs, perennials, annuals and home décor. We have been serving gardeners in four counties since we opened in 1985. We carry the highest quality nursery stock, a broad selection of hard to find perennials, and a full line of organic products.
We offer personal service and the advice needed to make all of your gardening projects successful. Feel free to come in with pictures and dimensions for landscaping advice. We offer professional horticulturalist assistance daily.
Our Guarantee
We Guarantee that all plants we sell be true to name, free from disease & insects and healthy at time of sale.
Tree & Shrubs: Any plant that fails to live within 6 months under reasonable growing conditions and care will have a one-time replacement for the purchased value of the plant. Replacements carry no further guarantee. If plant is unavailable we will replace it at value purchased. We will give a 1 year guarantee if Master Nursery Root Master is purchased at time of sale.
Perennials & Grasses: have a 30 day guarantee.
Houseplants: have a 30 day guarantee.
Sale items: will be guaranteed at sale price.
Clearance sales and sales of 50% off or more carry no guarantee.
This guarantee does not cover losses due to severe weather, drought, animal / insect damage or neglect.
All returns must be accompanied by receipt. No Cash refunds.
We Do Not Guarantee:
Annuals • Groundcover • Vegetables • Herbs • Water-plants
Plants installed in above ground containers
Live Christmas trees will carry no guarantee
Plants sold to contractors carry no guarantee other than to be true to name and size